one-of-a-kind, meticulously designed & beautifully built cocktail bars
We have two one-of-a-kind, meticulously designed & beautifully built bar structures available to hire - all set up with an array of fun & fancy props and styling features such as rugs, plants, lighting & personalised menu boards that can be tailored to suit your party theme.
Our cocktails bars can be hired alongside our team of charming mixologists for an exclusive number of public events & festivals, large weddings & corporate parties each year. Alternatively they can also be hired on a Dry Hire basis.
PLEASE NOTE - our books are now full for private parties and events in 2022 and early 2023.
If you are a brand planning a pop-up event or PR launch please do continue to get in touch as we have some space in the diary for activations from May onwards.
Big, bold and beautiful - the Lucky Pineapple trailer is a show-stopping giant golden pineapple event prop and cocktail bar on wheels! The finish on the bar is second to none and our guests love it so much they often ask if they can live in the pineapple! And who could blame them!? After experiencing the gorgeous fixtures and fittings, lighting, plants & props - so will you!
We can serve thousands of high quality, beautifully presented & consistently delicious cocktails at pace - making Lucky Pineapple set up to shine operationally at festivals, large corporates and other high volume events.
Minimum spends begin at £3000
+ a £500 hire fee
+ £1 per mile round trip mileage & towing fee
Enquire for Dry Hire pricing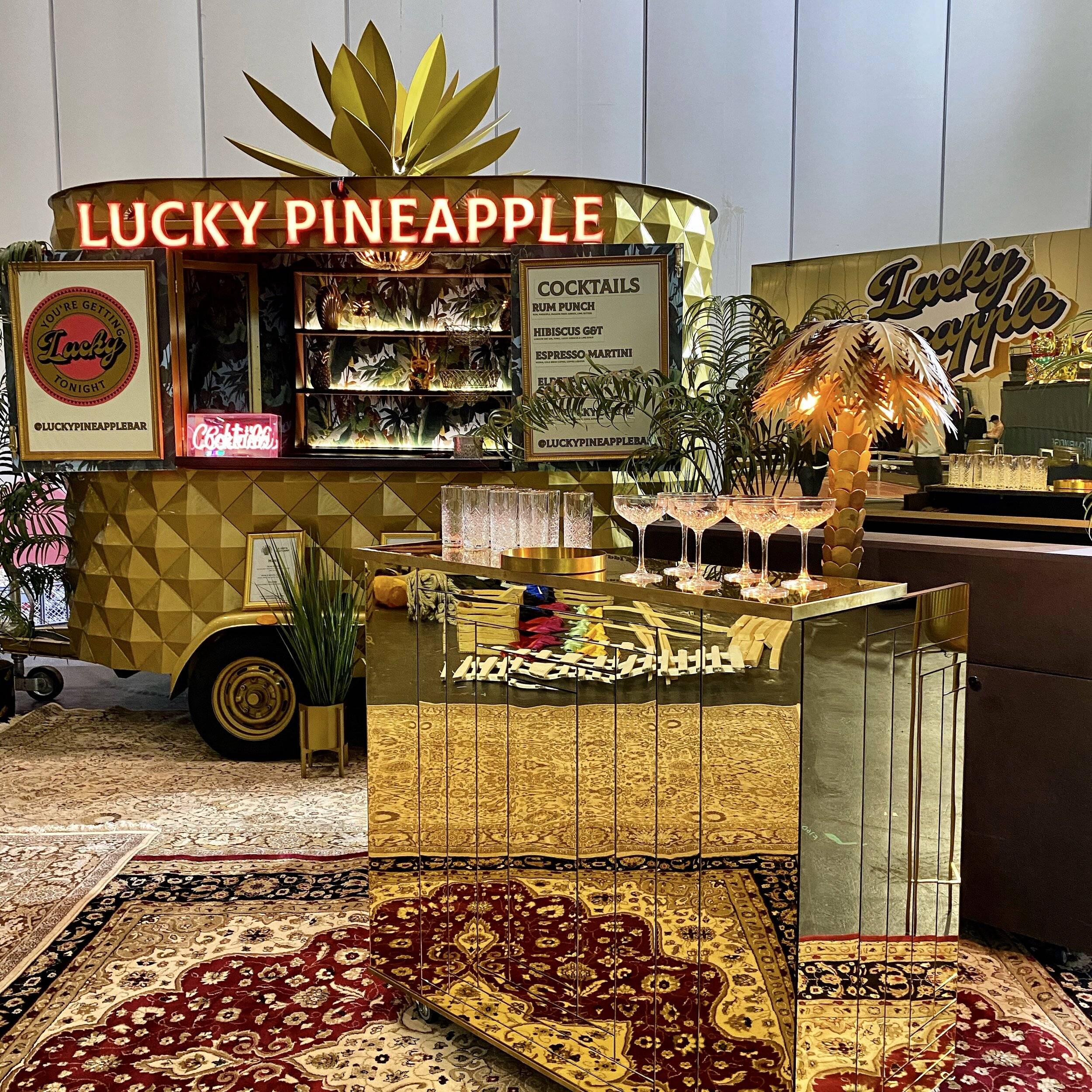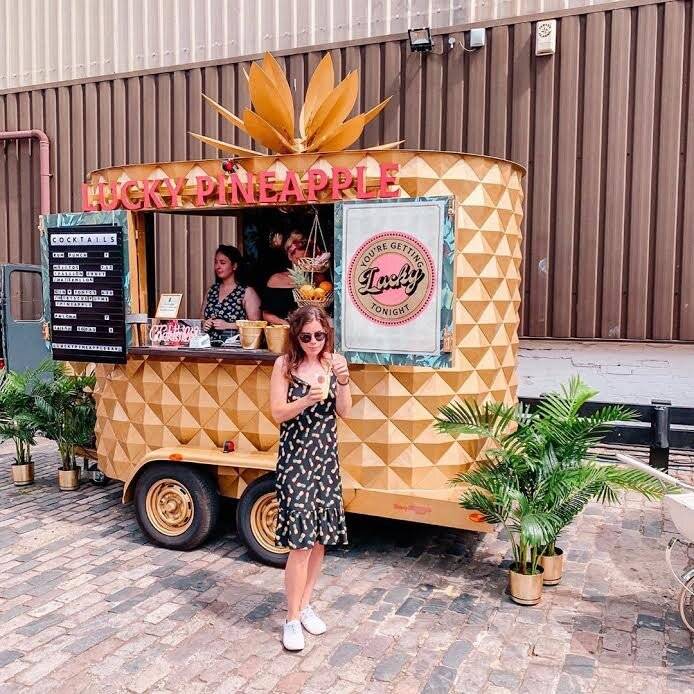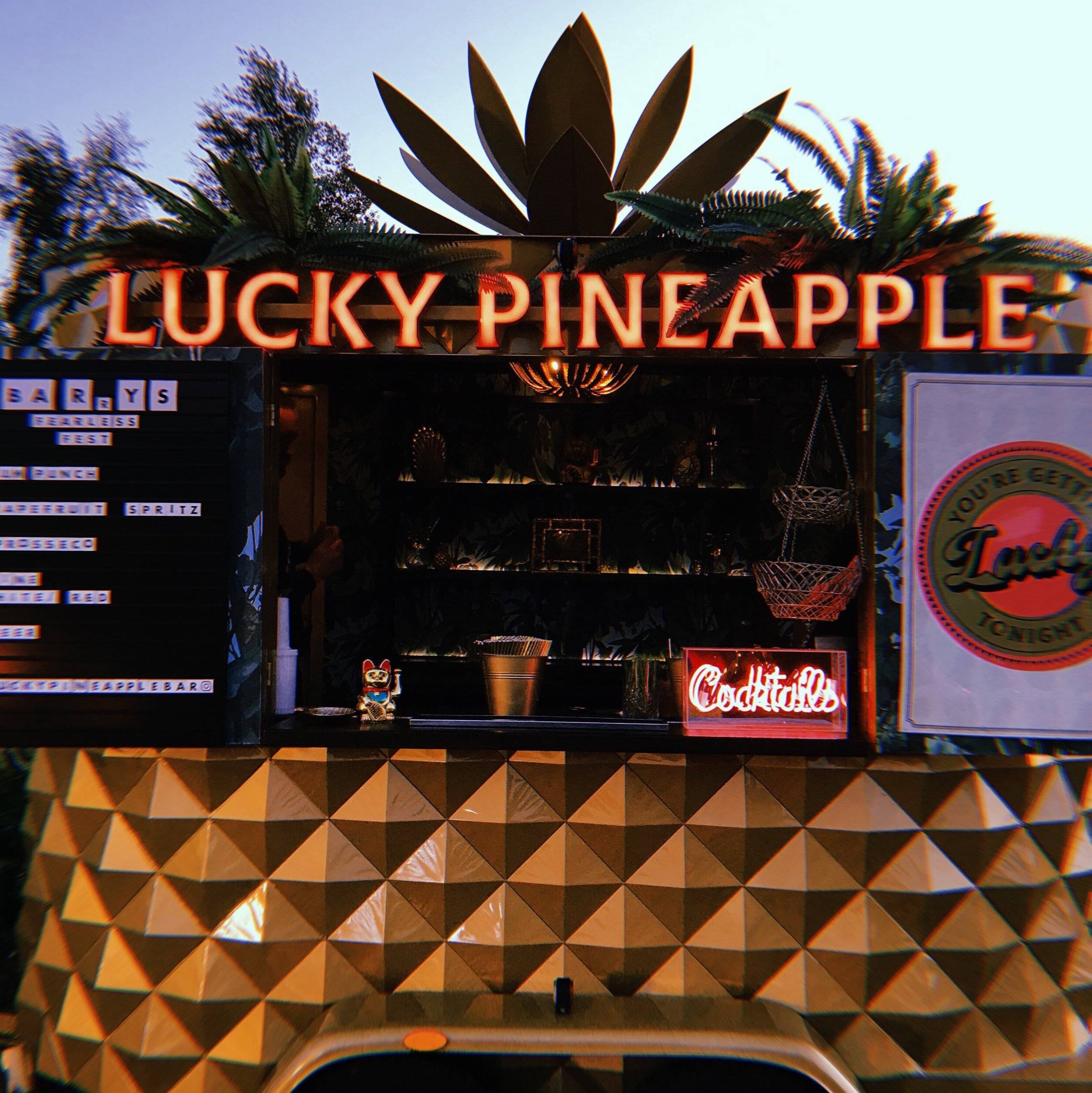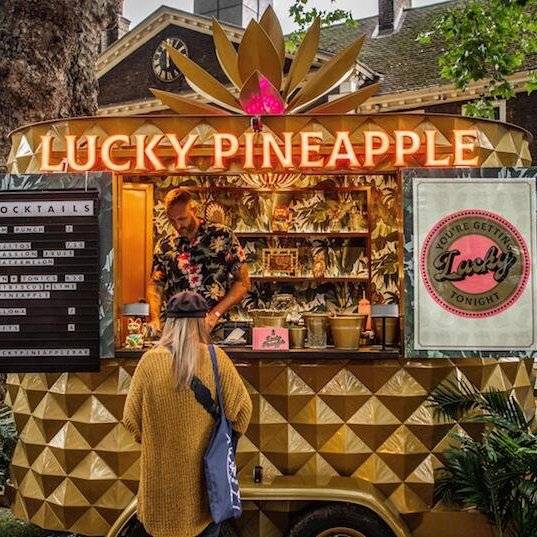 Taking the golden aesthetic and high-end decorative finish of the Pineapple trailer, our gold mirror bar is smaller in size, and more suited to indoor soirées or indeed all kinds of dry hire venues... From rooftops to tipi tents and beyond! Due to its modular design, this bar works in all spaces. We can add more pieces for greater impact or busier service, yet she still shines bright and bold in a smaller footprint.
We've gone for a subtle Art Deco inspired design, to bring on those cocktail sipping feels! The finish of the bar is a stunning gold mirror, which plays beautifully with twinkling lights, neon signs and tropical plants. A fabulous centrepiece for all kinds of events, big and small.
Minimum spends begin at £2000
+ a £300 hire fee
+ 0.50p per mile round trip mileage fee
Enquire for Dry Hire pricing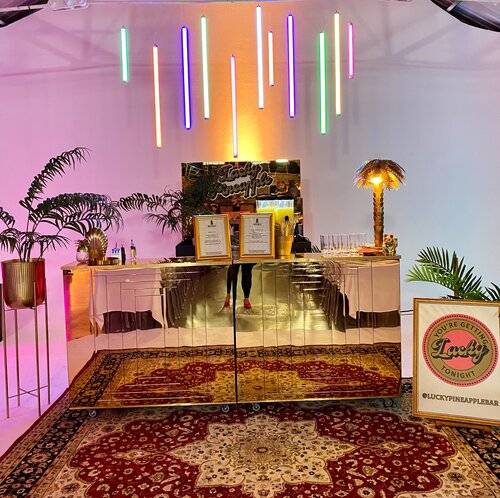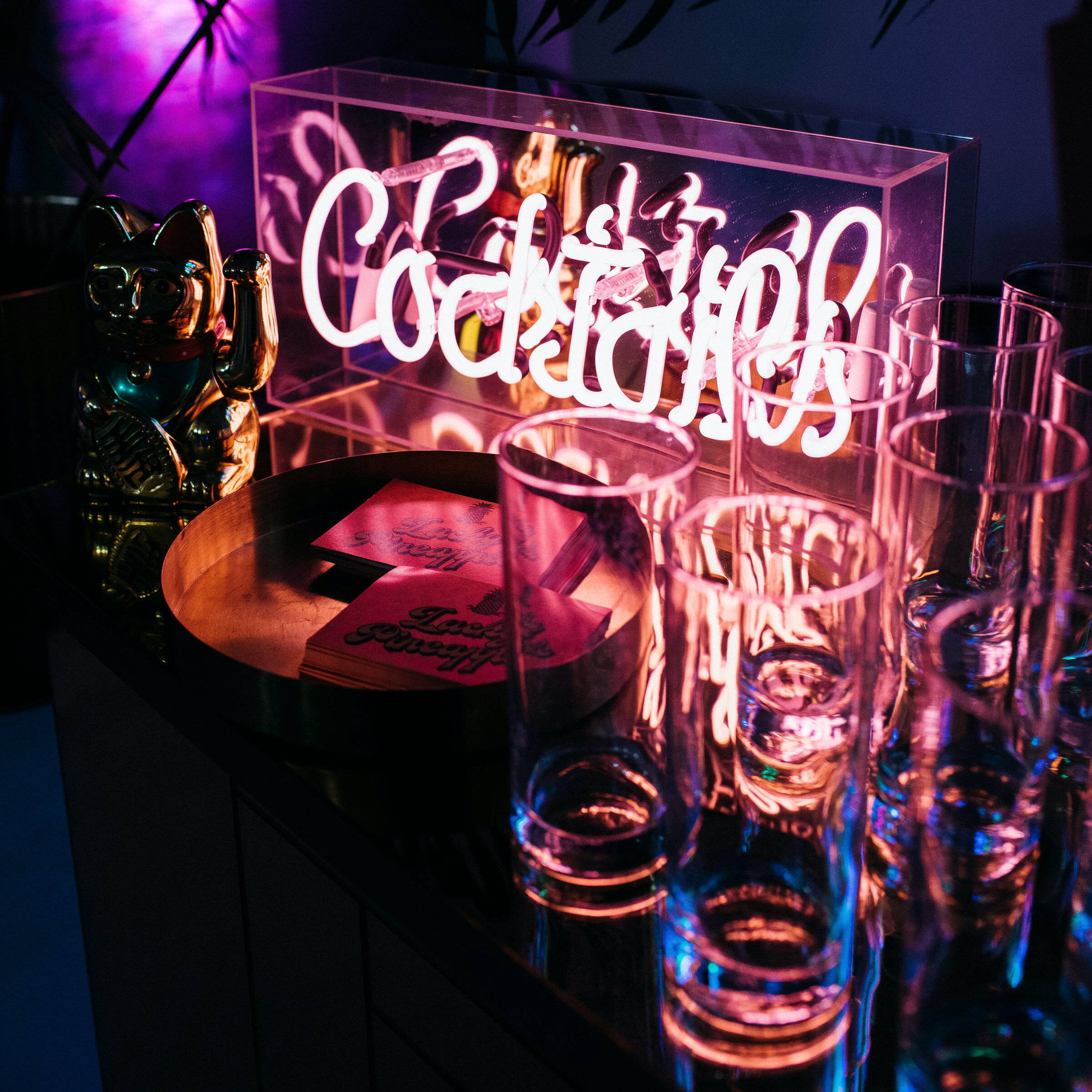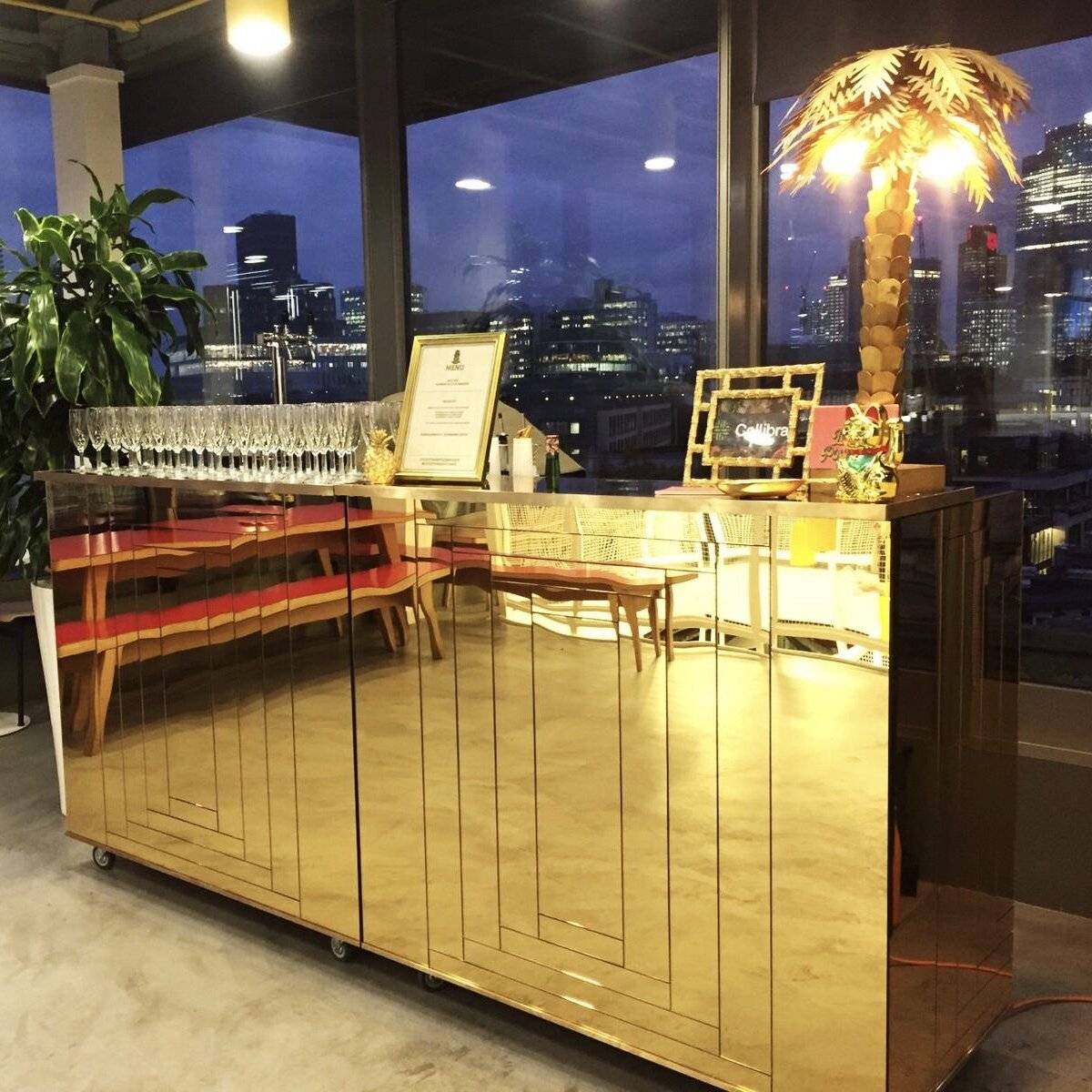 we've partied with the best of them...